on Fri 21 Feb 2014, 9:43 pm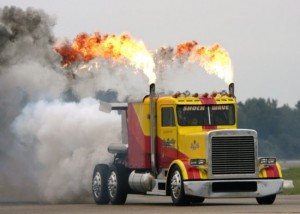 THis has now been known as the world fastest truck. The truck is so fast that it can actually outrun a Japanese bullet train.
The four-ton Peterbilt Semi truck is powered by three jet engines and hits speeds nearing 400mph. It generates a whopping 36,000 horsepower, covering a quarter mile in just 6.5 seconds.
Shockwave is equipped with three Pratt & Whitney J34-48 jet engines that were taken out of US Navy trainer jets called the T-2 Buckeye. Each jet engine is capable of producing 12,000 horsepower in afterburner, which makes a total of 36,000 for Shockwave. It holds 190 gallons of fuel, burning 180 of it per performance.

That was how I was caught with an "expo" in an Exam hall, Students were shouting Chop am, Swallow am, thinking it was a Small paper, Not knowing it was Ababio.
Permissions in this forum:
You
cannot
reply to topics in this forum